Twin comedians Sklar brothers Randy Sklar and Jason Sklar are well known American actors and comedians. Sklar brothers are best known for hosting Cheap Seats.
Sklar Brothers Age
Sklar brothers born on January 12, 1972. Their current age is 49 years.
Sklar Brothers Net Worth
According to various online resources, the net worth of Sklar brothers is around $5 million.
Sklar Brothers Family
Jason and Randy Childhood Pic with Mom
Randy Sklar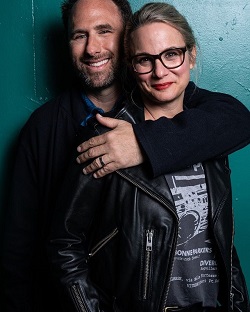 Wife – Amy Sklar
Rand and Amy have two daughters.
Jason Sklar
Wife – Dr. Jessica Zucker
Jason and Jessica have two children.
Sklar Brothers on Agt
Agt here stands for America's Got Talent. Recently Sklar Brothers appeared in agt. Here is the tweet below by Sklar brothers on their appearance on the Television Show agt.
Sklar Brothers Movies
Flushed (1999)
The Prime Gig (2000)
Citizen Toxie: The Toxic Avenger IV (2000)
See for Yourself (2001)
Bubble Boy (2001)
Sucker Shram (2002)
Parts of the Family (2002)
Melvin Goes to Dinner (2003)
My Baby's Daddy (2004)
Tales from the Crapper (2004)
Wild Hogs (2007)
The Comebacks (2007)
Overdrawn (2009)
Talking Hedz (2011)
The Legend of Awesomest Maximus (2011)
Boys (2012)
Carlos Spills the Beans (2012)
Teacher of the Year (2014)
What Are We Talking About (2014)
Sick of it All (2016)
Past Forward (2016)
The Dreidel Masters (2016)
The Evil Within (2017)
Security Deposit (2017)
Black Ice (2018)
Camp (To be Announced)
Sklar Brothers TV Shows
Apartment 2F (1997)
It's Like, You Know… (1999)
Action (2000)
BattleBots (2000)
The Oblongs (2001)
Providence (2001)
Becker (2001)
Curb Your Enthusiasm (2002)
Cheap Seats (2004 – 2006)
The Dana & Julia Show (2004)
Law & Order (2005)
Entourage (2006 – 2007)
Grey's Anatomy (2006)
It's Always Sunny in Philadelphia (2007)
Held Up (2008)
Back on the Topps (2008 – 2009)
Glenn Martin DDS (2009)
The Legend of Neil (2010)
Childrens Hospital (2010)
Boxes (2011)
I'm in the Band (2011)
United Stats of America (2012)
CSI: Crime Scene Investigation (2012)
Tweekly News (2012)
Sketchy (2012)
Partners (2012 – 2013)
Mighty Med (2013 – 2015)
Phineas and Ferb (2013)
Comedy Bang! Bang! (2013)
Newsreaders (2014)
Playing House (2015)
Agent Carter (2016)
Maron (2016)
Shady Neighbors (2016)
Those Who Can't (2016 – 2019)
The 5th Quarter (2016, 2018)
Better Call Saul (2017)
Bajillion Dollar Propertie$ (2019)
GLOW (2019)
America's Got Talent (2021)