Clickbait Release Date on Netflix
Clickbait, a thriller miniseries will be streaming on Netflix from 25 August 2021.
Clickbait Short Synopsis
The story Clickbait is about an online crime. Nick Brewer (Adrian Grenier), a loving father, husband and brother who mysteriously disappears one day. A man who loves his family, is held hostage. A video is circulated on the Internet which shows him being beaten to death with a sign in his hand, on which it is written that "I abuse women. At 5 million views I will die ". Could it be a threat or a confession? Or maybe both?
Nick's sister (Zoe Kazan) and Wife (Betty Gabriel) try their best to find Nick, which leads them to know the dark side of Nick. The people closest to Nick have to race against time to find out the hidden mirror behind the case and the criminal motive as soon as possible.
Clickbait is an eight-episode miniseries told from eight different perspectives, which create a gripping, high-tension thriller that explores the ways in which our most dangerous and unbridled impulses are fomented in the age of social media, uncovering an ever-growing rift between our virtual and real identities.
Clickbait Netflix Review
Clickbait Trailer
Adrian Grenier as Nick Brewer
Instagram – adriangrenier
Zoe Kazan as Pia Brewer
Instagram – zoe.kazan
Betty Gabriel as Sophie Brewer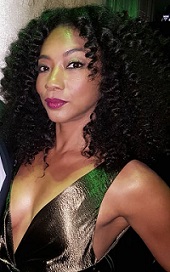 Instagram – Not on Instagram
Phoenix Raei as Roshan Amiri
Instagram – phoenixraei
Abraham Lim as Ben Park
Instagram – therealabraham
Jessie Collins as Emma Beesley
Steve Mouzakis as Zach De Luca
Instagram – stevemouzakis
Jaylin Fletcher as Kai Brewer
Instagram – officialjaylinfletcher
Cameron Engels as Ethan Brewer
Instagram – camdivineengels
Clickbait Cast on YouTube