Believe Me The abduction of Lisa McVey is a true story. Believe Me is the story of Lisa McVey who as kidnapped and raped. The incident took place in Tampa, Florida in November 1984. The film Believe Me originally released in the year 2018.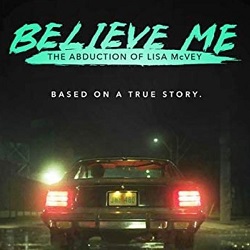 Believe me is currently available on Netflix but not in the United States.
But Believe Me full movie can be downloaded from an application called Telegram.
One can download and watch Believe Me full movie from Telegram.
Believe Me Original Lisa McVey
Believe Me: The Abduction of Lisa McVey Full Story
Here is the story in details of the movie Believe Me for those who could not find a way out to watch the movie.
Lisa, a 17 year old girl leaves her mom's house and goes to stay with her Granny. She thinks that living with Granny is better than living with her Mother. Lisa enjoys being with her Granny and the personal room she gets, but little does she know what's coming next. Lisa's Granny lives with a man who rapes Lisa. Lisa expected that Granny would save her, but she didn't. Lisa gets back to her mother's house but she refuses to let Lisa stay and asks her to stay with her Granny and have the kind of life she wished.
Lisa however compromises with the situation having no option left. Lisa faced too much at a very young age. Lisa works at a shop and she is very hardworking. Lisa's work time get's over at 3:00 AM.
Bobby Joe Long, who is a serial rapist and murdered targets women, follows them and when the time is correct kidnaps them, rapes them and then he murders them so that there is no evidence or witness left for the Police to catch him.
Detective Larry Pinkerton is behind Bobby Joe Long. He is working on the case for more than a year but the serial rapist Bobby Joe Long is still out of his reach.
Bobby keeps an eye on Lisa. He studies her daily routine. He knows at what time would Lisa leave for work and what is the best time to kidnap her.
The incident takes place in the month of November. Bobby follows Lisa and then kidnaps her when she is on her way to home from work. Bobby rapes Lisa in the car, just after the moment he kidnaps her. He covers Lisa's eye so that se could not see who he is.
But Lisa is smart. Though she couldn't see the man who kidnapped her and raped her, but she studies everything that's happening. She pays attention to how the car takes turns, when the kidnapper takes her to his apartment. She even counts the number of steps while climbing the stair.
As Lisa did not show up after work, her Granny informs Lisa's sudden disappearance to Lisa's mother. Also, they report to Police about Lisa's sudden disappearance.
Lisa's mother is not much concerned or worried about the matter and she says that Lisa is doing so in order to gain some attention, while Lisa's sister is seriously worried about Lisa.
Bobby makes Lisa bath after bringing her to his apartment and then rapes her again right there in the bathroom. Lisa observes that her kidnapper likes cleanliness.
Lisa remembers moments from her past, time spent with her sister. When Lisa's sister visited her, Lisa kept a gun as she was predetermined that if her Granny's boyfriend tried to touch her sister, she will kill him for sure. Lisa remembered her birthday celebration with her sister, aunt and uncle. The time all of them spent on beach.
Next, the rapist rapes Lisa on his bed. This time Lisa tries to have a conversation with the man. Bobby asks Lisa What is her name and how old is she? She replies that her name is Carol and she is 20. Carol is Lisa's aunt. Lisa cooperated with Bobby so that she could survive. Lisa tries to convince Bobby that she Loves him, she will be her woman.
Lisa asks for food and he makes sandwich to her. Taking the advantage of the opportunity, she leaves her hair strands which would help to prove Lisa's presence. Lisa says that she wants to Pee. Bobby takes her to bathroom and stands right in front of her, for which she asks for some privacy. When Bobby leaves, she locks the door, removes the cloth tied on her eyes and sees herself in the mirror. Lisa leaves her fingerprints on the mirror and toilet. She notices a shoe in the bathroom.
Bobby tries to open the door when he finds that Lisa is taking longer than usual, and then he finds that Lisa has locked the door. He starts shouting and asks Lisa to open the door. When she opens the door, Bobby gets angry on Lisa because she did what she was asked not to do. Bobby brings out his gun and threatens that he will kill her. Lisa requests Bobby not to kill her and makes a story that his father is ill and there is no one to look after him except Lisa. Her father is waiting for her and he needs his medicine. Lisa also asks Bobby to set her free so that she can take care of her father.
At night when Bobby is in sleep, Lisa tries to make a call using the telephone in Bobby's house but Bobby catches her. Bobby then asks her to dress up and he takes her out. Bobby stops at a gas station for fuel and then takes Lisa to a place where he decided to kill her. But Lisa however manages to convince Bobby not to kill her. Bobby lets Lisa go and asks her to remove the cloth tied on her eye after few minutes.
Lisa is now free. She runs back to her Granny's house and tells them what had happened to her. But her Granny refuses to believe her.
Police is informed about Lisa's return. Lisa is taken to Police station for her statement where Detectives don't believe her. They say Lisa to accept if she has done something wrong and is afraid to tell her parents. They assume that Lisa might have a night stay with her boyfriend or some guy and she is cooking up this story to hide what she was doing when she disappeared.
This makes Lisa break into tears. She says BELIEVE ME. She stops talking to Detectives further. This is when Detective Larry Pinkerton comes in. Lisa at first refuses to talk to him, but Detective Larry Pinkerton puts her daughter's picture in front of Lisa and asks her to speak. He says he Believes her, he has a daughter and Lisa is like his daughter.
Lisa now opens up to Detective Larry Pinkerton. She narrates her everything that happened to her. Detective Larry Pinkerton is impressed by Lisa's smartness. All the information that Lisa gave to Detective Larry Pinkerton, makes him understand that it might be possible that Lisa's rapist and the serial rapist and murderer whom they are searching for years is the same person.
Bobby's car seat covers were made of some red fabric. The samples of the fabric were collected from Lisa's cloth and matched to the fabric obtained from the girls who were previously raped and murdered. As both the fabric matched, it is confirmed that Lisa's kidnapper is the same person they have been looking for years.
Detective Larry Pinkerton makes arrangement for Lisa to stay safe as it is quite sure that Bobby might try to kill Lisa as she is now a witness against him. Also, Larry Pinkerton takes out Lisa with her daughter for dinner.
Lisa recalls everything and now they start from the place where she was kidnapped. Everything that happened to her the night she was kidnapped, was recreated. This leads her to the place where Bobby left her when she was set free by him. Looking at the tree Lisa said to Pinkerton, that she knew she is going to live right after she saw the tree.
Based on Lisa's information and the investigation done by Police, Bobby was caught and Lisa identified him.
Bobby in his statement mentioned that there was something different with Lisa and so he didn't kill her.
At the ending, Detective Larry Pinkerton says that he would adopt her if she wants to.
Lisa's Aunt Carol with her husband comes to take Lisa with them. They apologize to Lisa and say they had no idea what had happened to her.
Next, Lisa is celebrating her 18th birthday with her sister, aunt and uncle.
At the ending scene, real Lisa McVey is looking at the same tree at which reel Lisa looked and knew she is going to live. Lisa has now become a Sheriff's deputy specializing on sex crimes and working to protect children.
Believe Me Cast
Katie Douglas as Lisa McVey
Katie Douglas Height in Believe Me
142 cm
David James Eliott as Detective Larry Pinkerton
Amanda Arcuri as Lisa's Sister
Rossif Sutherland as Bobby Joe Long
How long was Lisa McVey abducted for?
26 Hours
Is Lisa McVey still alive?
Yes