Young Royals is a 2021 TV Program on Netflix. Young Royals is the story of a Royal teen, constantly under the scrutiny of media. As Royal teen who has no choice to whether to seek the limelight or not, find out its one of the most difficult task to have a personal life. A Royal who has mood swings, just like other very normal teenagers, but have no one to understand him at the same time.
Rotten Tomatoes – 100%
Google Users – 98%
IMDb – 4/5
Edvin Ryding as Wilhelm
Edvin Ryding is a Swedish actor. Edvin was born on February 4, 2003. Edvin made his debut in acting in the year 2009 with the series Mannen Under Trappan.
Age – 18 years
Height – 1.8 m
Omar Rudberg as Simon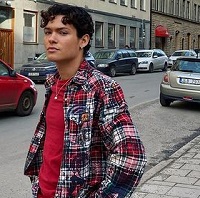 Omar Josúe Rudberg also known as Omar is a Swedish Singer and Actor. Omar was born in Venezuela on 12 November 1998.
Age – 22 Years
Height – Not available
Malte Gårdinger as August
Malte Gårdinger is a Swedish actor playing the role of August, Wilhelm's cousin in the TV Series Young Royals. Malte is well known for his role in The Anderssons Rock the Mountains (2014), #Will (2016), Fate (2017) and Triangle of Sadness (2021).