Taylor Zakhar Perez as Marco from the Kissing Booth 2.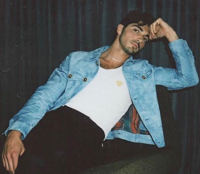 Taylor Zakhar Perez, is an American actor born on 25 December, 1991 in the South Side, Chicago, United States, the 30 year old young and handsome actor has the zodiac sign Capricorn. Taylor belongs to Mexican ethnicity.
Taylor made his acting debut in short film Hush in 2008.
Besides Taylor Zakhar Perez's appearance in the Kissing Booth 2, he marked his appearance in Awkward, Young & Hungry, iCarly and the show Embeds.
Taylor was a swimmer in his high school. Soon after graduation, Taylor joined opera houses performing musical theatre.
Taylor Zakhar Perez gained popularity for his role as Marco Pena in Kissing Booth 2. He gained 30,000 followers just after the release of the trailer of the Kissing Booth 2.
One of the amazing facts is that Taylor had to learn Guitar for his role as Marco in the Kissing Booth 2.
Taylor is 183 cm tall and his weight is 65 Kg.
Taylor Perez's Net Worth is around $10 million as per various online sources.
More about Marco from Kissing Booth 2
Taylor's favourite book is Harry Potter.
Taylor's favourite quote is:
Taylor as Marco in Kissing Booth 2 has seven siblings (five sisters and two brothers). Taylor is single but when asked the question if he is looking forward to a relationship he answered that he is a fan of Joey and would like it if she dates him.
Taylor gained around thirty thousand followers just after the trailer of Kissing booth 2 came out. TAYLOR ZAKHAR PEREZ has 4.2 million followers on Instagram.