Robbie Williams Netflix Documentary
The new Netflix documentary series Robbie Williams focuses on Williams' brightest highs and lowest lows. The series, which premiered on Netflix on 8 November 2023, sees the pop icon walking viewers through his memories of his time in the spotlight.
Exploring the Fascinating World of Robbie Williams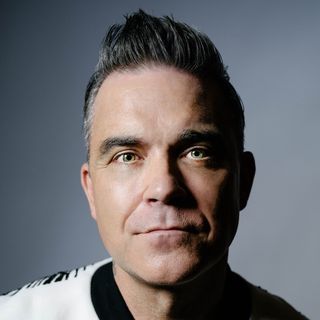 Robbie Williams is a British singer, songwriter, and performer who gained fame as a member of the boy band Take That in the early 1990s. He was born on February 13, 1974, in Stoke-on-Trent, Staffordshire, England. Robbie Williams left Take That in 1995 and embarked on a successful solo career.
Exploring the fascinating world of Robbie Williams unveils a captivating journey of a working-class boy from Stoke-on-Trent who, against the odds, soared to global stardom. Starting as a member of the iconic boy band Take That in the early '90s, Williams boldly embarked on a solo career, gifting the world with chart-topping hits like "Angels" and "Millennium." His magnetic stage presence, energetic live performances, and charismatic personality have endeared him to audiences worldwide. Beyond the music, Robbie's tumultuous personal battles, including substance abuse and mental health issues, and his triumphant comebacks, have made his story one of resilience and redemption. Additionally, his philanthropic endeavors and forays into acting reflect a multifaceted artist who continues to captivate and inspire his fans, making Robbie Williams a truly remarkable figure in the entertainment world.
The Rise to Stardom: A Journey Through Robbie Williams' Early Life and Career
Robbie Williams' journey to stardom is a fascinating one, marked by both the highs and lows of his early life and career. Here's a glimpse into his rise to fame:
Early Life:
Robbie Williams was born on February 13, 1974, in Stoke-on-Trent, Staffordshire, England. He grew up in a working-class family.
He showed an early interest in performing and music, and his mother was a major influence, encouraging his talents.
Take That:
Robbie Williams' first significant break came when he auditioned for a new boy band called Take That in 1990. He was chosen as a member, and the group quickly rose to fame.
Take That achieved massive success in the early 1990s, with hit songs like "Back for Good" and "Pray."
Departure from Take That:
In 1995, Robbie Williams left Take That to pursue a solo career. This decision marked a turning point in his life and career.
Solo Career:
Robbie's early solo career was met with skepticism, but he soon proved himself with the release of his debut album, "Life thru a Lens," which included the hit single "Angels."
He continued to release successful albums, including "I've Been Expecting You" and "Sing When You're Winning," which featured hits like "Millennium" and "Rock DJ."
Struggles:
Despite his success, Robbie Williams faced personal and professional challenges. He battled with substance abuse and mental health issues, which affected his career and well-being.
Comeback:
In the mid-2000s, Robbie made a comeback with the album "Intensive Care," featuring the single "Tripping."
He continued to release successful albums and singles, and his career regained momentum.
Live Performances:
Robbie Williams is known for his dynamic live performances and stage presence, which have made him a beloved figure in the music world.
Charity Work and Other Projects:
Robbie Williams has been involved in various charity initiatives, including the charity soccer match "Soccer Aid."
He also explored acting and appeared in films like "Angels," a short film inspired by his hit song of the same name.
Robbie Williams' journey to stardom has been marked by both musical achievements and personal struggles. His resilience and talent have made him a significant figure in the world of pop music, and he continues to captivate audiences with his music and performances.
The Trials and Triumphs: Unveiling the Personal Struggles of Robbie Williams
The trials and triumphs of Robbie Williams are a compelling narrative of a life marred by personal struggles and ultimately marked by resilience and redemption. Despite his meteoric rise to fame as a member of Take That, Robbie grappled with inner demons, battling substance abuse and mental health issues, which at times threatened to overshadow his musical prowess. His journey to sobriety and mental well-being became a testament to his strength and determination. While the world witnessed his professional highs with chart-topping albums and electrifying live performances, it was his ability to confront and conquer his personal demons that truly defined his legacy. Robbie Williams' story is a poignant reminder that even amid the most daunting challenges, the human spirit can prevail and emerge stronger, offering inspiration and hope to many.
Lights on the Stage: Celebrating Robbie Williams' Electrifying Live Performances
Robbie Williams is a British pop superstar who has captivated audiences worldwide with his dynamic and electrifying live performances. Known for his powerful vocals, charismatic stage presence, and infectious energy, Robbie has become one of the most iconic and beloved performers in the music industry.
Robbie Williams' journey in the world of music began as a member of the wildly successful British boy band, Take That. However, it was his solo career that truly propelled him to stardom. His live shows have been instrumental in solidifying his status as a true entertainment icon.
One of the standout features of Robbie Williams' live performances is his remarkable ability to connect with his audience. Whether it's through his engaging banter, intimate storytelling, or simply the way he makes each fan in the crowd feel like he's performing just for them, Robbie creates an emotional connection that few artists can match. His genuine passion for entertaining and connecting with his fans shines through every moment on stage.
Robbie Williams' concerts are known for their spectacular production values. His shows are a visual and auditory feast, with elaborate stage setups, stunning light displays, and larger-than-life video screens. These elements serve to enhance the overall experience, creating a sensory journey that complements his music.
Throughout his career, Robbie has released a string of hit songs that have become anthems for many. Hits like "Angels," "Rock DJ," "Millennium," and "Let Me Entertain You" are staples of his live performances. These songs, with their catchy hooks and relatable lyrics, become even more powerful when delivered live, as the entire audience sings along in unison.
Robbie Williams' live concerts are also famous for their high-octane energy. He exudes charisma and confidence on stage, often showcasing his playful and flamboyant side. His live shows are a rollercoaster of emotions, from the touching moments during ballads to the high-energy, foot-stomping rock and pop numbers. The transitions are seamless, and his ability to keep the audience engaged from start to finish is a testament to his showmanship.
In addition to his solo work, Robbie has occasionally reunited with his Take That bandmates for special performances, sending fans into a frenzy. These reunions add an extra layer of excitement to his live shows, reminding audiences of his roots and the enduring power of his music.
Robbie Williams' live performances are a testament to his enduring popularity and his status as one of the most significant entertainers of his generation. He has the unique ability to transform an ordinary concert into an unforgettable experience, leaving his fans with memories that will last a lifetime. His electrifying stage presence, powerful vocals, and deep connection with his audience make him a true legend in the world of live music.
Dive into the World of Robbie Williams through this Must-Watch Documentary
Robbie Williams is one of the most iconic and beloved figures in the music industry, and his journey from boy band sensation to solo superstar is a fascinating one. To dive into the world of Robbie Williams and gain deeper insights into his life, career, and the makings of a music legend, you should definitely watch the documentary titled "Robbie Williams: Take the Crown."
"Robbie Williams: Take the Crown" is a must-watch documentary that provides an intimate look into the life and career of the British pop sensation. Here's what you can expect from this documentary:
Personal Journey: The documentary delves into Robbie Williams' personal life, from his early years growing up in Stoke-on-Trent to his time as a member of Take That and his transition into a successful solo artist. It explores the ups and downs of his life, his struggles, and his triumphs.
Behind the Scenes: "Take the Crown" offers an exclusive behind-the-scenes look at Robbie's life on the road, in the recording studio, and during his live performances. It provides an intimate view of the hard work and dedication that goes into being a global music superstar.
Candid Interviews: The documentary includes candid interviews with Robbie Williams, as well as his friends, family, and fellow musicians. These insights offer a more profound understanding of his personality, challenges, and the creative process behind his music.
Career Milestones: You'll get to relive some of the key moments in Robbie's career, from his early days in Take That to his solo breakthrough and his record-breaking solo tours. It's a journey through the evolution of a pop icon.
Iconic Performances: The documentary features footage of Robbie Williams' electrifying live performances, showcasing his incredible stage presence and showmanship. It's a reminder of why he's considered one of the greatest entertainers of our time.
Fan Perspective: "Take the Crown" also includes interviews with fans, showing the profound impact Robbie's music has had on people's lives. It highlights the deep connection he has with his audience.
Watching "Robbie Williams: Take the Crown" is a fantastic way to immerse yourself in the world of this music legend. It offers a comprehensive look at his life and career, providing a greater appreciation for the artist, his music, and the journey that has made him a beloved figure in the world of music. Whether you're a longtime fan or just discovering his work, this documentary is a must-watch for anyone interested in the life and artistry of Robbie Williams.