Rhys Milford Jones was shot by Sean Mercer on 22 August 2007 in Liverpool while Rhys was walking home from football practice.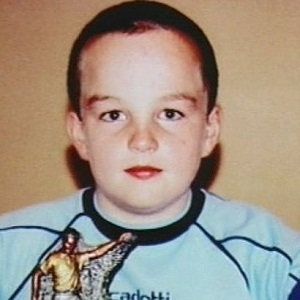 Rhys Jones
Rhys Milford Jones was born on 27 September 27 1995 in Croxteth, Liverpool, son of Stephen and Melanie Jones. Rhys was a happy boy with good habits, Rhys loved going to school, having friends. He was a huge football fan nd supported Everton football club. He was a fan of Everton, whose shirt he wore practically every day and did not like to take it off even to sleep.
On Wednesday 22nd August 2007 Rhys was walking home from football practice at around 7 o'clock. Rhys was eager to get home that day as there was and England vs Germany match. As Rhys was walking along the fir tree pub car park he was shot in neck by a teenage gunman (Sean Mercer) on a bike. Luckily his football coach was driving by and informed Rhys mother and Father Melanie and Stephen and elder brother Owen. Rhys was rushed to hospital where he passed away. He died in his mother's arms. Sean Mercer, 16 at the time he shot Rhys was charged for Murdering Rhys. Five other gang members (members of the croxteth crew) James Yates, Dean Kelly, Nathan Quinn, Melvin Coy and Gary Kay's were all charged for the murder and cover up of Rhys's murder.
Why Was Rhys Jones Murdered
Rhys Jones was not the actual target. It was unfortunate that he was killed.
Sean Mercer and his gang had planned to kill Wayne Brady. Wayne Brady was inside his van which was parked in the parking lot and the windows of the van was down. Sean drew his pistol just then as Rhys crossed in front of the truck. Sean saw him and shot his gun. The first shot hit Rhys. The gun shots entered from behind, on top of him from his left shoulder, then out the right front of his neck. The boy fell to the pavement, bleeding to death. Sean did not flinch, he fired again. Then he turned away and quickly escaped on his bicycle. The person he wanted to kill was not even scratched, instead Rhys Jones was killed. After the attack, Wayne Brady got away with the truck instead of helping Rhys Jones.
Rhys Jones Funeral
More than 2,500 people attended Rhys's funeral on September 6, 2007. Attendees were asked to wear sportswear or soccer bandages. All Everton players attended the funeral. They buried the boy with the blue shirt of his beloved Everton and above the drawer, a soccer ball.
Players and fans paid tribute to Rhys with a minute of applause at the game between Everton and Blackburns Rovers, played on Saturday after the crime. The entire Premier League joined the tributes to the innocent victim of gang violence.
Rhys Jones Killers
Sean Mercer was born on September 17, 1990 in Liverpool, England. Sean's father Joseph McCormick, a physical training instructor and bodyguard. Sean's father had the reputation of being involved in local fights and shootings. Sean was led by his mother Janette Mercer, who worked as a secretary. Sean fell into drug use. Sean would spend his whole day running away from home and sleeping in the streets. Sean loved football, he was a fan of Everton and a fan of the talented Steven Gerrard. But regardless of his sports passions, Sean became involved in criminal activities and he used to hang out with criminals older than him. Sean ended up becoming a member of the Croxteth gang. Sean bought himself a bicycle and a fighting dog, signs of an English gang member. He soon saw that the sale of Drugs could make him easy money, so he started selling marijuana. He was arrested by the police about 70 times in 4 years, but being a minor, they had to release him the next day and took him to his mother's house who promised that Sean would change for good, which clearly never happened.
Sean Mercer was arrested in June 2008.
On September 16, 2008, after a 9-week trial before Judge Irwin and the jury, in which the defendant remained silent at all times, Sean Mercer was convicted of murder, sentenced to life imprisonment, with a minimum period of 22 years in prison. Other members of the gang were arrested and tried for concealment of evidence and false testimony, with penalties ranging from 5 to 7 years in prison.
Prior to the verdict, Judge Irwin made the defendant stand up and said: "You are not soldiers and have no discipline or honor. You are petty criminals, cowards with a total disregard for life. The life of Rhys Jones is gone. We will not take a life for another life, although I assure you that if you ever go free, you will be supervised and watched for as long as you have life".
Janette Mercer, Sean's mother, was tried and convicted of obstruction of justice. She was given 3 and a half years in effective prison.
Inside the jail, Sean's behavior did not improve at all. On November 2, 2009, he stabbed Jake Fahri, another convict with whom he had already had personal problems since they met. Sean Mercer has been identified by authorities as a dangerous inmate, head of a group considered one of the most dangerous within the prison called "Monster Mansion", known for housing the most notorious murderers in England.
Rhys Jones Parents
The parents of Rhys Jones founded the Rhys Jones Complex, to combat the scourge of gangs and help victims of violent crimes.
Rhys Jones Documentary
In 2007, a 4-chapter miniseries titled "Little Boy Blue" was released, based on the case of Rhys Jones. This story has been dedicated to the memory of Rhys Jones.
Little Boy Blue, produced by Kwadjo Dajan and written by Jeff Pope. First episode of Little Boy Blue released on 24 April 2017 and the fourth, the last episode aired on 15 May 2017.
Book on Rhys Jones
Stay With Me, Rhys: The heartbreaking story of Rhys Jones, by his mother.