Nevertheless is a South Korean Television Series on Netflix. Nevertheless is the story of a boy named Park Jae-eon and a girl Yu Na-Bi, who are attracted to each other, they like each other but they have an impression that there is nothing like unconditional love and all relationships are based on certain conditions. There is always some selfish reason behind two persons being attracted to each other, is what Park and Yu Na-Bi thinks, from the experience of their past relationship.
Nevertheless premiered on 21st June, 2021 in South Korea. Every Saturday, new episodes of Nevertheless airs on JTBC. Once the episode of Nevertheless is broadcasted on Television, its episodes come on OTT platform Netflix.
Nevertheless Air Days
Saturday
Nevertheless Episodes Release Date on JTBC
E01 – 19 June, 2021
E02 – 26 June, 2021
E03 – 3 July, 2021
E04 – 10 July, 2021
E05 – 17 July, 2021
E06 – 24 July, 2021
E07 – 31 July, 2021
E08 – 7 July, 2021
E09 – 14 July, 2021
E10 – 21 July, 2021
Nevertheless Episode 4 Release Date in Different Countries
Philippines – July 11, 2021 Sunday
Japan – July 11, 2021 Sunday
India – July 10, 2021 Saturday
Australia – July 11, 2021 Sunday
Nevertheless Cast
Song Kang as Park Jae-eon
Song Kang is a South Korean Actor. Song Kang was born on 23 April, 1994. Song Kang began his acting career with the Television series The Liar and His Lover in 2017.
Real Name – Song Kang (송강)
Age – 27 Years
Height – 185 cm
Relationship Status – Single
Instagram – songkang_b
Net Worth – $20 million
Movies
TV Shows
The Liar and His Lover (2017)
Man in the Kitchen (2017 – 2018)
Touch Your Heart (2019)
When the Devil Calls Your Name (2019)
Love Alarm (2019 – 2021)
Sweet Home (2020)
Navillera (2021)
Nevertheless (2021)
People at Meteorological Service (2022)
Han So Hee as Yu Na-Bi
Han So Hee is a South Korean Actress. She was born on 18 November, 1994. Han So Hee is well known for her role in the drama series The World of the Married.
Real Name – Han So Hee (한소희)
Age – 26 Years
Height – 165 cm
Relationship Status –
Instagram – xeesoxee
Net Worth – $1 million
TV Shows
Reunited Worlds (2017)
Money Flower (2017)
100 Days My Prince (2018)
After the Rain (2018)
Abyss (2019)
The World of the Married (2020)
Nevertheless (2021)
My Name (To be Announced)
Chae Jong-Hyeop as Yang Do-Hyeok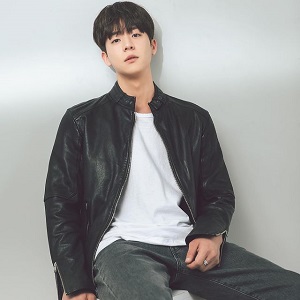 Real Name – Chae Jong-Hyeop (채종협)
Age – 28 Years
Height – 186 cm
Relationship Status – NA
Instagram – chaejh_
Net Worth – NA
Lee Yul-Eum as Yoon Seol-ah
Real Name – Lee Yul-Eum (이열음)
Age – 25 Years
Height – 165 cm
Relationship Status – NA
Instagram – yuleumlee
Net Worth – $1 million