Devi and Paxton end up together in Never Have I Ever Season 2.
Know how Devi starts with Ben but ends up being with Paxton. Read the full story of Never Have I Ever Season 2.
Never Have I Ever Season 2 starts with Devi kissing Ben. Devi's father is dead and the ceremony of dispersing Devi's father ashes into sea is done. Emotional Devi kissing Ben, is caught by Devi's mother Nalini. Nalini asks Devi if she will have sex when she dies. Devi feels guilty, but she liked Kissing Ben.
Devi when gets back home after the her father last rights, she finds Paxton waiting for her. Devi is about to leave for India. Devi is riding on two boats at a time – one Ben and other Paxton. How will Devi end up with Paxton. What made her decide she loves Paxton and not Ben. The love triangle – Ben, Devi, Paxton.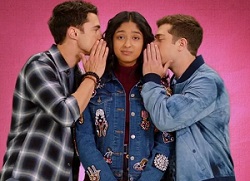 Ben and Paxton found out that both of them are Devi's boyfriend at a time. Ben is hurt and does not show interest talking to Devi. Paxton on the other hand is talking to Devi, but he acts like nothing like a relationship ever existed between them.
In the meantime, Devi's trip to India is cancelled for some reasons. Things get worse, when Devi finds that Aneesa is dating Ben. In such a low time, Devi does not get much support from her friends as they too are busy with their love life.
Paxton could not avoid Devi anymore. He is seriously in love with Devi. He realizes everything that Devi has done for him in the past years. When Devi is hopeless, Paxton appears and shows his love for her. Paxton and Devi do their first couple dance in school.
So, finally and officially Paxton ends up as Devi's boyfriend in Never Have I Ever Season 2.